Sauna, actually a Finnish term used in fitness and therapy circles all across the world, is best known for its great healing effect. It has been part of Finnish bath culture for more than 2000 years. Half of the Finns are seen using saunas for health/fitness, family gatherings, and as a location for social fun. The Finnish sauna soaking experience is matchless. It is only possible due to the top quality saunas produced in the Finland to the highest standard in the local sauna industry. Over all these years, a Finnish sauna refers to a better quality and designed sauna. The Finnish saunas have their power house in wood fired sauna heaters which generate and hold on to maximum heat. They make cost-effective heating options for sauna but mostly suit outdoor sauna applications.
In the present time, however, many people are still interested in having a traditional Finnish bath experience with low utility bills. Even though sauna heaters come in gas and electric models, but the option of a wood-fired sauna heater is more likely to recreate what they are looking to experience. It's not only about producing the heat, but also about the shining flame, the scent of burning wood, and the pleasant ambiance. The wood burning sauna heaters need a small amount of wood to function and deliver a soothing experience.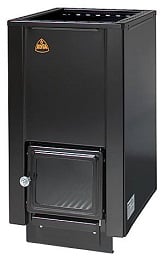 Top Features of Wood Fired Sauna Heaters
1. No Requirement of Electricity
Nature' fury can strike anytime in the form of a hurricane or flood jeopardizing the electrical connection completely. It may take a long time to restore the power supply in such situations before you start to use the sauna again. However, the use of wood burning sauna heaters can make your soak possible even in disastrous conditions. They are perfect for remote locations where there is no supply of electricity.
2. Healing Effect of Traditional Finnish Sauna
The temperature of a Finnish sauna, operating with a wood-fired sauna heater, exceeds the temperature of a steam room. The traditional sauna has 70% less humidity than Steam rooms which helps in fast relieving stress and tension, enhancing blood circulation at the same time. They also revive the skin through sweating or perspiration. Of course, there may be confusion regarding your choice of steam rooms or traditional saunas, as both of them have their own advantages. If you want to experience a soft, therapeutic and pleasant soak, the wood fired sauna heaters will be the perfect choice.
3. Fun Gathering at the Sauna
Saunas provide traditional and desiring surroundings, especially if run with a wood burning sauna heater. If anyone enjoys igniting fires and organizing sauna parties, it will be the most appropriate option. The shining flames, the hiss of burning wood, and the distinctive aroma come together to please the senses. It creates the best setting for a fun time with your family or friends.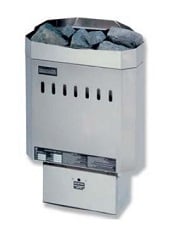 Of course, Finland is the best place for a traditional sauna soaking experience. It is a country of 5 million people and around 2 million saunas. The saunas can be seen everywhere including hotels, offices, homes, ships, sports centers, and on the coast of scenic waterways, lakes. Finland manufactures the top notch electric and wood fired sauna heaters distributed in the world. You can have the same quality and performing wood burning sauna heaters on Cedar Barrel Saunas. When you look for a superlative Finnish sauna soaking experience, its better to invest in the best designed as well as best priced wood burning sauna stoves. Northern Lights Cedar Barrel Sauna brings you a range of the best quality wood fired sauna heaters for ultimate Finnish soaking experience. Place an order for your favorite wood sauna heater with Cedar Barrel Saunas with a call on 1-800-759-8990 or via sales@cedartubs.com!