No matter you see them as sweathouses or use them for steambath, you will enjoy a multitude of health benefits from the sauna rooms which are mainly therapeutic in nature and ensured thorough dry or wet heat sessions. The traditional dry sauna or Finnish sauna was the first variety of sauna room to be designed. It is still serving as a blueprint for building many of today's modern saunas. Due to the relaxing bath session in these sauna rooms, a broad range of health benefits can be experienced, while sharing moments in a social/family circle or spending solitary moments both at the physical or mental level.
Various Kinds of Sauna Rooms
Sauna rooms are installed in private homes, luxury resorts, and spas and health clubs as an effective way to relax and heal naturally. From wood-heated or smoke saunas to deep rock tray varieties, the sauna rooms are designed to allow the muscles of users to relax fast, which proves beneficial after a hectic work schedule or hard play session. They make a great alternative for non-physical exercise which promotes higher blood circulation all over the body. Based on the kind of sauna rooms you choose, your experience is likely to differ, but bringing you almost all the advantages associated with the use of a sauna soak.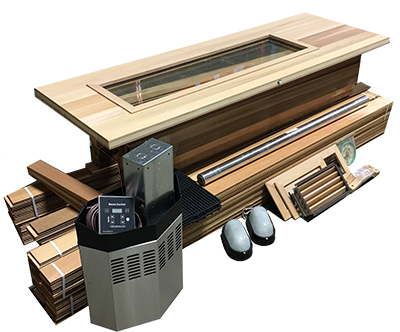 When it comes to finding an appropriate option in sauna rooms, there are three major varieties to consider. There are long used varieties of Swedish or Finnish saunas that includes a small room or a separate area. Within the sauna room, a sauna heater gets placed, which may be driven by wood, gas or electricity. Some of these sauna rooms have hot air (dry saunas) while others (wet saunas) produce steam by keeping stones hot and pouring water on them. The second type of sauna uses metal or ceramics to create heat through continuous emission of of far infrared energy and are therefore named after them (far infrared saunas). And your third and final option is infrared lamp saunas, which uses radiant infrared heat lamps to deliver the heat required to make the sauna operative. While selecting this option, you will be able to get the advantages of color therapy induced by from different colors of light, that can be effective in healing of specific organs in the user body.
Be it is your desire to continue with the practice of warm bath for optimal physical benefits or get a soothing relaxation of mind with clear thoughts and high level of satisfaction, the most perfect DIY kits are available on Cedar Barrel Saunas for building sauna rooms of your choice and preference. Call at 1 -800 -317 -9054 or visit online to check out price of packaged DIY kits for sauna rooms on Cedar Barrel Saunas today